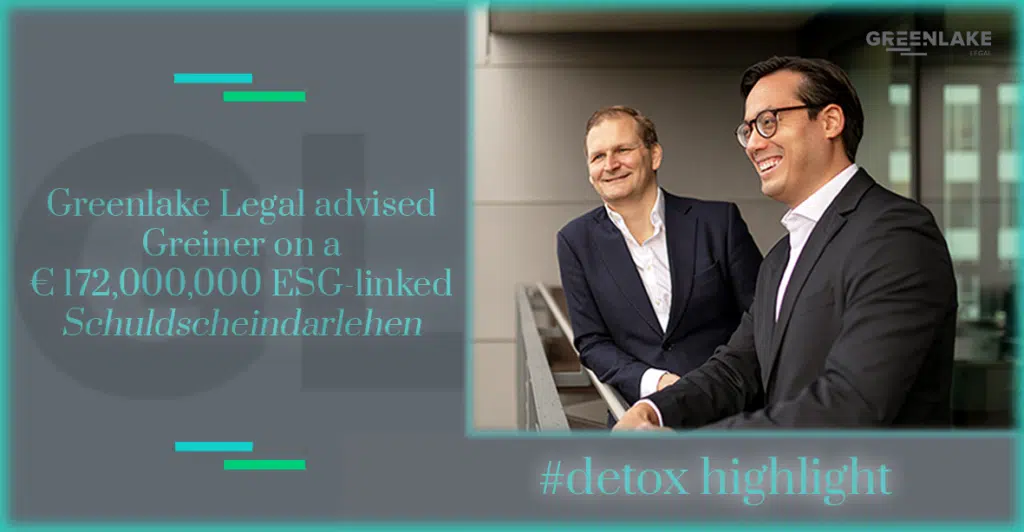 We promised to keep our social media community updated on what we´ve been up to during our social media detox. So here we go with our Detox highlight #1:
Advising Greiner AG on their successful EUR 172,000,000 inaugural ESG-linked Schuldscheindarlehen.
"Adding an ESG feature to our financing portfolio with this promissory note loan shows once again that sustainability is not just a buzzword for Greiner AG. We are firmly convinced that only sustainable companies will have a profitable future and would like to thank Michael Raninger and the team at Greenlake Legal for their excellent work in making a complex task look simple." says Hannes Moser, CFO at Greiner AG.
Michael Raninger was the lead partner in this transaction: "We congratulate Hannes Moser and Greiner on this highly successful transaction and are proud for having been a part of it."
Good to know: we at Greenlake Legal have decades of experience in efficiently structuring  Schuldscheindarlehen and managing the complex processes involved in each such transaction.