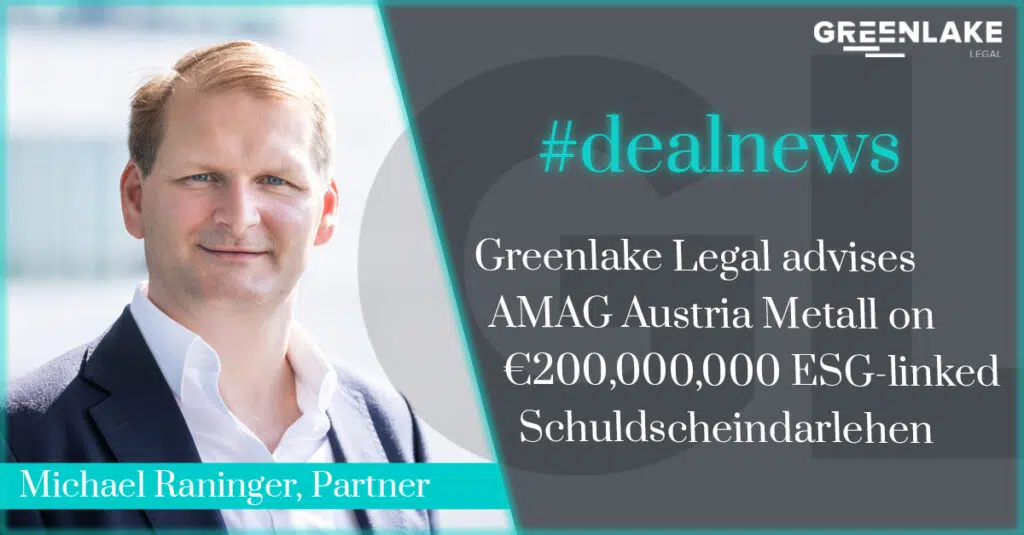 Greenlake Legal congratulates AMAG Austria Metall for its success in closing €200,000,000 ESG-linked Schuldscheindarlehen (SSD)!
"Environmental sustainability throughout the entire process chain has always been deeply entrenched in the DNA of AMAG. Yet for many years now AMAG has taken sustainability further to include deep social engagement in our communities, honest employee relations and innovative solutions for individual customer needs. Creating shared value and further reducing our ecological footprint are top priorities for us.", says Gerald Mayer, CEO of AMAG Austria Metall.
"We are delighted about market confidence in AMAG Austria Metall exceeding the initial target size of this transaction despite tight pricing and difficult market conditions. Once more we relied on Greenlake Legal's calm and highly professional advice for all challenges we encountered during the course of this ESG-linked SSD deal.", says Rüdiger Pressler, Head of Group Finance at AMAG Austria Metall."
Michael Raninger was the lead partner in this transaction: "During the last 18 months, we advised both lenders and borrowers on a whole range of ESG-linked financings. We are very happy that AMAG Austria Metall once again relied on our profound expertise for this important deal."
We also extend our congratulations to Erste Group, LBBW and Raiffeisen Bank International AG as arrangers, and to CMS Germany as counsel to the arrangers. Each of them did an excellent job to ensure smooth execution.
We at Greenlake Legal have extensive experience in ESG-linked financings across a broad range of products, such as LMA loan agreements and SSDs, and many other financing products. Reach out to Michael Raninger and Erik Hoedl or look around on our website today to find out how Greenlake Legal can help you succeed.